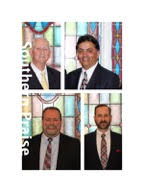 Southern Praise Quartet is from Coastal North Carolina. In 2004 Mr. Dwight Crainshaw formed the group. His love for Southern Gospel music, and also his deep bass voice, gave him the perfect opportunity to create this vibrant ministry that has delighted churches and people all over the region. Our music is mix of traditional Southern Gospel with a few extra songs added in. We perform at large and small churches. Where God leads, we will follow. We also perform at special events indoors and out. Consider us for your next event.
Isaiah 6:8
Then I heard the voice of the Lord saying, "Whom shall I send? And who will go for us?"
And I said, "Here am I. Send me!"
Featured
Southern Gospel Group in Wilmington
on Gig Salad